Our Services
We offer complete residential electrical services and installations including:
Diagnosis, repair and replacement of nonfunctional devices
Installation of new switches, outlets, fixtures, and indoor/outdoor lighting
Installation and repair of circuits, breakers, meter base sockets, breaker boxes and panels, surge protectors and cooking equipment
Diagnosis, repair and replacement of attic vent fans, bath and laundry exhaust fans
Wiring for new hot tubs
Security lighting
Grounding systems
New Construction
From additions to your current home to the new home you're having built, we're experts in designing and installing entire electrical systems for your house.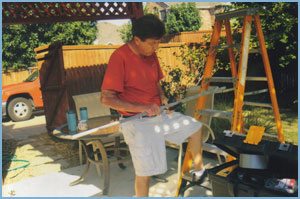 Service
Faulty electrical systems are dangerous. We can fix switches, outlets and lighting. In addition, we can troubleshoot your system, and locate where short problems are occurring.
Installation of New Indoor Wiring
We can add additional switches and outlets, install new under–cabinet lighting, set up new wiring for an entertainment center and install recess lighting.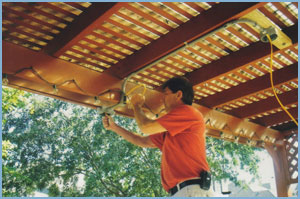 Installation of New Outdoor Wiring
Whether you need decorative garden lighting, or increased security, we can take care of all your outdoor electrical needs, including the installation of underground wiring.
Power Upgrade
If your house is still working with fuses, or if your circuit breakers keep tripping, we can install a more robust system, with a new breaker panel and overload correction.
Installation of Electrical Appliances
We can install everything from ceiling to attic fans, from recessed lighting to back–up generators.
Emergency Services and Estimates
In the event that your equipment needs servicing, you have peace of mind knowing we offer emergency services and free estimates.